Famous Australian People - Missy Higgins Photos
Photo of the Aussie pop/indie singer Missy Higgins for the animal rights group Peta (People for the Ethical Treatment of Animals). The text says.. Need anothor reason to go vegetarian? Never feeling the sun on their backs or the grass beneath their feet, unable to spread a wing or stretch a leg.. animals suffer on factory farms.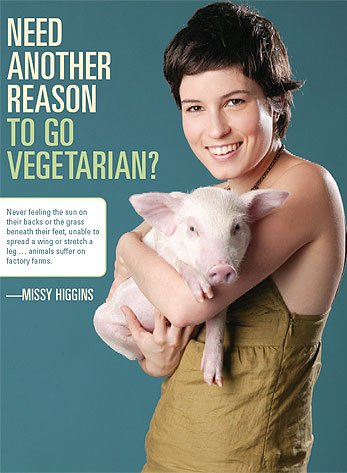 Picture of the Australian singer and songwriter
Missy Higgins
.


>> Index Australia>> Famous Australians>> Australian Singers>> Missy Higgins Biography>> Missy Higgins PETA Photo


Australian Singers - Missy Higgins

Born / Birthday : 19th of August, 1983
Name : Melissa Morrison Higgins
Famous for : Songwriting skills, for being a vegetarian, and for winning the Triple J Unearthed competition.
Birthplace : Melbourne, Victoria
Lives : Australia